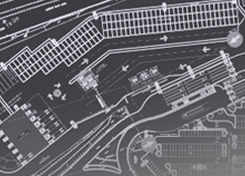 Architecture
Smyth and Associates have extensive experience in all types of building design including residential and commercial and master-planning. Projects range from house extensions, converting Listed Buildings, new houses, commercial and industrial schemes, urban masterplanning.
We will assist you obtain the necessary Planning Permissions, Listed Building and Conservation Area Consent, Building Regulations Approvals.
We have successfully designed and managed a varied portfolio of projects. Our team of highly creative and imaginative architects and designers are committed to designing buildings, spaces and places which are as striking and innovative as they are socially, economically and environmentally responsible.
Our design team have an exceptional range of skills and bring considerable experience. We combine these skills with a refreshing attitude and a hands-on approach, and are constantly looking to related disciplines and new technologies which will help us develop optimum design solutions. See our Latest Projects to give a flavour of some of the schemes we have been involved in.
Call Us On:
Liverpool Office: 0151 245 0157
Manchester Office: 0161 341 0624
Preston Office: 01704 565 327
Email: info@smythandassociates.co.uk
Quick Contact: